Was that the crunch of leaves I heard?  The smell of bonfires?  The taste of pumpkin beer?  We must be coming upon Autumn, and that, of course, means football time here in America!  Today I just wanted to go back and highlight some of my past stock images that would be great for advertising during the upcoming season.
First off, the American tradition of tailgating!  From the American Tailgating Association: http://americantailgaterassociation.org/news/history-tailgating-time-honored-tradition/
There is something about the combination of friends, family, appetizers and beverages that excites fans like few other things can. Grilling burgers that are branded with your team's logo, competing to see whose flag can fly the highest, and dressing children in sports paraphernalia – all are as American as the hot dogs and apple pies that are consumed while doing them.
My images of tailgating try to capture those elements – friends, family, food and football!  I've got several series, and they all include colorful uniforms, people of a variety of ages and background, traditional tailgating foods, and fun.  First, you can find most all of these series on my microstock distribution agencies, like Shutterstock, and my own hosted Photoshelter site.   I've even got some image packs if you need multiple images and you want to save money over in my new shop at CreativeMarket: https://creativemarket.com/seanlockephotography
First I've got this series which features a group of college age students:
Then there's this fun group of images with football fans in their mid-late-20s.  And more food – bratwurst, shrimp, pies.  We always eat well at these shoots!
If you're looking for a group with a wider age range, and even more food, like wings, subs and more sausage, you can check out this party set at Stocksy:
Speaking of Stocksy, you can find all my football images there in this gallery, including this one of barbecue baby back ribs, wings, shrimp and more, plus other angles and compositions of that food, as well as some backgrounds with lots of copyspace:
If you're not looking for tailgating images, perhaps you just need a quick iconic image of a person to go alongside your ad or article?  Isolated on white for easy addition.  How about a selection from this cheerleader series?
Maybe a football player in an authentic uniform would help to communication your message.  This guy is dressed in a blue jersey and helmet and is in a variety of poses, including some with money, beer and food.
Of course, success can be easily communicated with an official referee putting up the touchdown signal.  If you need penalty signals, I've got those as well.
It doesn't have to be professional or college ball we're talking about either.  It can be a bunch of friends gathered at the park playing ball in the Autumn air.  Here's a sample from this series:
I keep thinking I'm done with this blog post, and then I remember another image set.  For example, I love this series of football fans isolated on white, cheering, watching tv, and, yes, tailgating:
Which leads me to this accompanying large group series with people of all ages and ethnicities, cheering and yelling for their favorite team.  Shooting on location in the stands of a real stadium, this series has a whole different game day feel than the isolated set.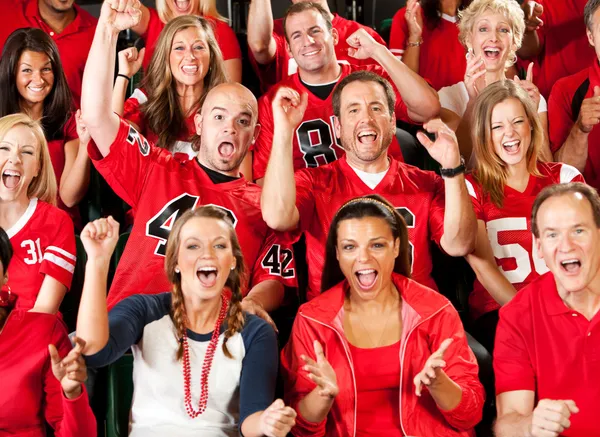 I've got a few more, but I don't want to bore you.  There's this series of a female fan in team jersey, isolated on white.  This one of a male fan in jersey, on white, and in a television watching environment as well.
There may be more, but I think that's enough for today.  Thanks for stopping by and don't forget your discount code to get 20% your first purchase at Stocksy United: SJLOCKE20